A bao bun, some chippies, a waltz around the arena, and it's dusk. New Zealand has an insurmountable lead over Wales at half time. The crowd has doubled to an impressive 16,500+ and the happy carnival-like atmosphere has intensified. I am calm. It's just a gig. This is what I was born for. I've never played for this many people at once, but cumulatively I'm sure I've played for at least this many. I'm mostly excited to know if I'm on the big screen (I am!), if you can hear me through the stadium (you can – yay Claudio on sound 🙌), and if it's being streamed on television (not to my knowledge..).
It feels right to be performing these songs. A bit of Motown to represent me and a dependable theme to represent rugby. I hope very much that people are singing along but I can't tell from the stage. A bit of stage fright creeps in just as I come to the transition from Ain't No Mountain to Stand By Me. I think, "what if I just stop here? Cadence and bow out before I make any mistakes…" but that would also be a mistake, so…
As soon as the first chord of the second song rings I know I'm fine. I've sung this a million times. All that's left to do is enjoy. I take in the blue of the twilight, the buzz of the crowd, the curiousness of my own voice echoing back to me from across the expanse of bodies and bright lights. Then it's over. I bounce off stage to a beaming husband and a crowd of giggly teenage fans. Claudio is smiling too, which is always a good sign. I manage to skip the post show worry this time and lean into the high. 
Musically yours,
Maggie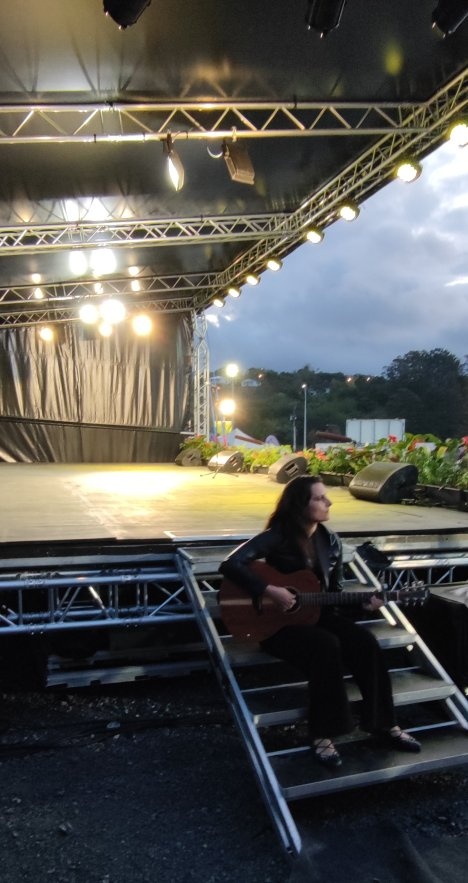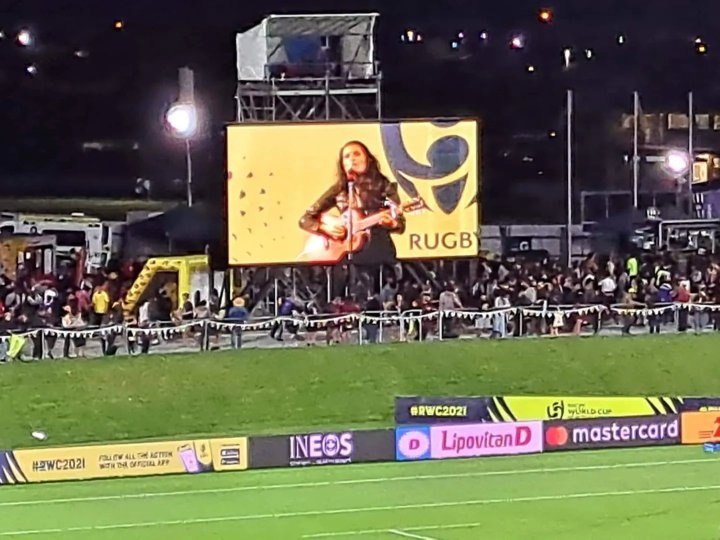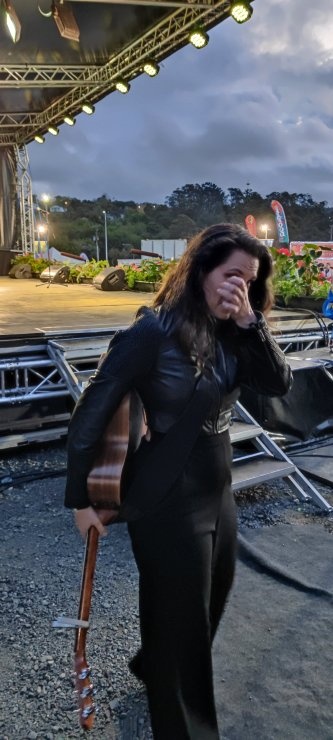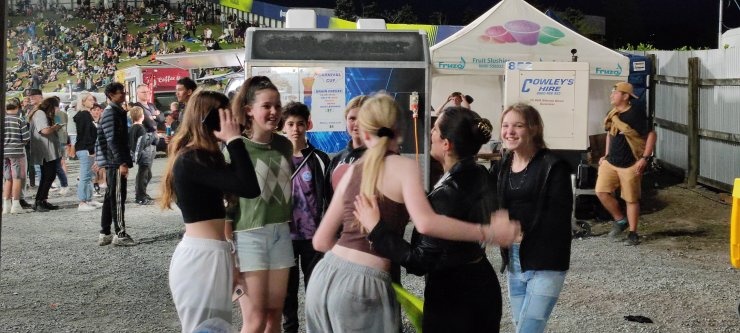 ps. I am trying to get the official video as streamed to the big screens if possible. If so, you'll be the first to know!
Upcoming Event Links:
Nov 6th *postponed from Oct 30th* – Maggie Cocco at The Chapel House
November 7th – Variety Artists Club of NZ presents Wahine Toi
November 8th – Poetry Live! Presents Renee Liang & Maggie Cocco
November 12th – Bill Angus at Dale's Acoustic Live Events
November 13th – Songwriter Showcase
November 26th – The San Detroit Band at Botticelli's
November 27th – GRD Book Club Popup Discussion: A sonic Geography of Voice – Towards and affective politics
Popup TBA – Piano and Spray Paint feat Maggie Cocco and Josh Kiwikiwi
Recent Events, Blogs, Videos, Editorials, Recordings:
Wales v New Zealand Women's Rugby World Cup Half Time Show feat Maggie Cocco Music
France v Italy Women's Rugby World Cup Half Time Show feat Maggie Cocco Music
DUET WITH ME! And watch WADPA DANCE dress rehearsal for Women's Rugby World Cup with Maggie Cocco Music
The Meaning behind "Science for Sociopaths" and new music with Beagle Radio
October 13th-14th – Maggie Cocco's Science for Sociopaths at Whangarei Fringe *New Song Cycle Premiere*
Add lyrics to "What Else" from Maggie Cocco's Science for Sociopaths
Video Playback: New Science for Sociopaths at Quaranpalooza
'Becoming' – New Song Cycle Sneak Peek from Maggie Cocco's Science for Sociopaths
Making Sense (and Art) of Social Media
The Maggie Cocco Band – Acoustic at Diablos Caravan
Mid Recording at Anzac Road: LIKE A MOTH
Maggie Cocco Music and Creative Calvary Present "I See You"
What is "real time" and why is it important?
All possible events are live streamed, filmed, or otherwise documented. Email for access to past shows or workshops. Check Patreon for full content and follow Maggie Cocco Music projects on social media for daily updates.
SPONSOR NEEDED: Christian is a Detroit native and was recently adopted into a big loving family of 7. Mom noticed right away that Christian is a naturally gifted singer, and Christian became a Maggie Cocco Music student the first time earlier this year in preparation for her audition with the prestigious Detroit Youth Chorus. She got in – Congratulations Christian! And is now seeking ongoing lessons in music theory and vocal coaching with Maggie Cocco Music. Subsizing Christian's lessons costs $220/month.
Maggie Cocco Music services are Pay What You Can so that persons who mightn't otherwise be able to afford them have access to quality music education and services. Thank you for supporting Maggie Cocco Music in this mission 🤍