One week ago today…
The green room is right next to the warmup field. It's surreal for me and the dancers to be warming up alongside world class athletes from across the globe. The dancers run their set to the sound of my acoustic, shouts of camaraderie in languages foreign, and the distant thunder of thousands cheering the pre game entertainment. The stadium has a carnival-like atmosphere. All good vibes, family friendly, and fried food. I haven't felt this kind of energy in years.
Had I appreciated how big this event was, I might have been nervous. By the time I process the enormity of it, there was no point. I've come this far not being nervous, and the dancers needed me to be a steady. I'm the veteran performer in the room these days. I sometimes find the years of experience and cumulative hundreds of audiences – thousands of people – reassuring. Even if all goes terribly, I'll be alright. But it won't go terribly. It rarely does. Especially not when I know that others – in this case, the dancers – are counting on me…like 1,2,3.
I've not had the chance to rehearse on stage with them, and almost as soon as we've met and run the show we're on stage together. When they jump the stage shakes and the first time this happens I lose my fingering. I hear a deadened pluck come out of the guitar instead of the ringing chord that is expected, but it doesn't bother me right then. Later I'll obsess over it, but right now I'm in this moment and then the next until all the moments are gone.
The performance is over, and the dancers are taking pictures with me side stage. They seem happy. The staff and crew seem happy. I'll think about that one moment for the next 2 hours until the next half time, but ultimately I'm happy. And hungry. My attention turns to meeting my body's needs and preparing for the second half time show. Two hours…
Musically yours,
Maggie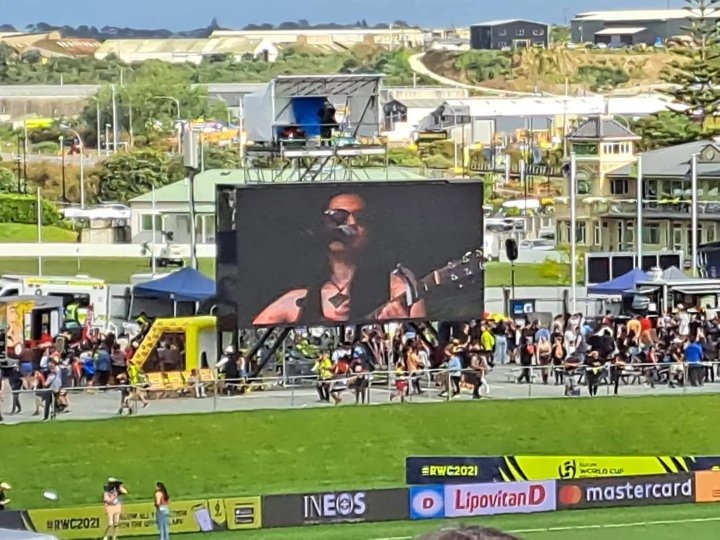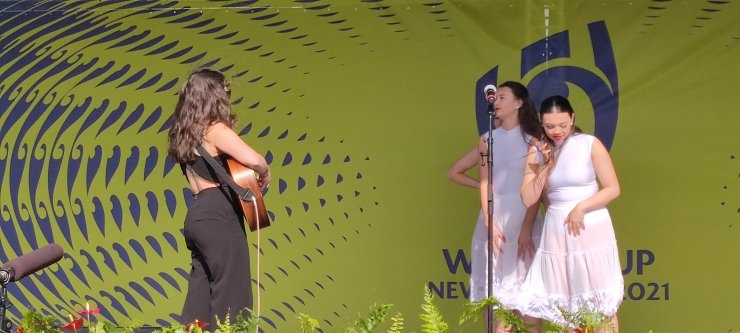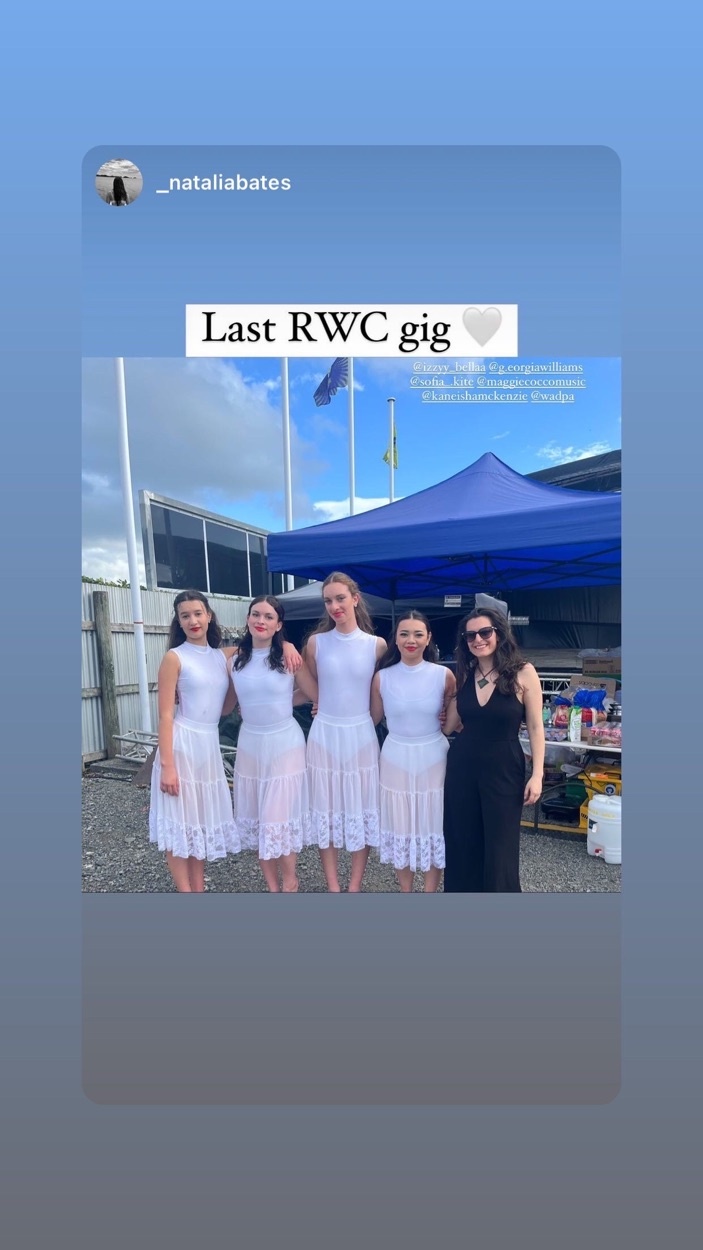 Upcoming Event Links:
Nov 6th *postponed from Oct 30th* – Maggie Cocco at The Chapel House
November 7th – Variety Artists Club of NZ presents Wahine Toi
November 8th – Poetry Live! Presents Renee Liang & Maggie Cocco
November 12th – Bill Angus at Dale's Acoustic Live Events 
November 13th – Songwriter Showcase 
November 26th – The San Detroit Band at Botticelli's 
November 27th – GRD Book Club Popup Discussion: A sonic Geography of Voice – Towards and affective politics 
Popup TBA – Piano and Spray Paint feat Maggie Cocco and Josh Kiwikiwi
Recent Events, Blogs, Videos, Editorials, Recordings:
Wales v New Zealand Women's Rugby World Cup Half Time Show feat Maggie Cocco Music
France v Italy Women's Rugby World Cup Half Time Show feat Maggie Cocco Music 
DUET WITH ME! And watch WADPA DANCE dress rehearsal for Women's Rugby World Cup with Maggie Cocco Music 
The Meaning behind "Science for Sociopaths" and new music with Beagle Radio 
October 13th-14th – Maggie Cocco's Science for Sociopaths at Whangarei Fringe *New Song Cycle Premiere*
Add lyrics to "What Else" from Maggie Cocco's Science for Sociopaths
Video Playback: New Science for Sociopaths at Quaranpalooza
'Becoming' – New Song Cycle Sneak Peek from Maggie Cocco's Science for Sociopaths
Making Sense (and Art) of Social Media
The Maggie Cocco Band – Acoustic at Diablos Caravan
Mid Recording at Anzac Road: LIKE A MOTH
Maggie Cocco Music and Creative Calvary Present "I See You"
What is "real time" and why is it important?
All possible events are live streamed, filmed, or otherwise documented. Email for access to past shows or workshops. Check Patreon for full content and follow Maggie Cocco Music projects on social media for daily updates.
SPONSOR NEEDED: Christian is a Detroit native and was recently adopted into her family of 7. Mom noticed right away that Christian is a naturally gifted singer, and Christian became a Maggie Cocco Music student the first time earlier this year in preparation for her audition with the Detroit Youth Chorus. She got in (Congratulations Christian!) and is now seeking ongoing lessons in music theory and vocal coaching with Maggie Cocco Music. Subsizing Christian's lessons costs $220/month. 
Maggie Cocco Music services are Pay What You Can so that persons who mightn't otherwise be able to afford them have access to quality music education and services. Thank you for supporting Maggie Cocco Music in this mission 🤍