February, we need to talk. It's been over a month since I last wrote to my patrons and it seems like I'm only getting a chance now because January flooded my plans along with much of Auckland. I haven't quite got the hang of work-life balance with you as a time, place, and season yet. You already feel busier than in any year before. I don't know what's changed, whether it's you, me, the scene we're working in, my standing in it…I feel grateful, privileged, and whelmed, having not quite tipped into the overwhelm I've been flirting with and which dear January clearly embraced.
Six weeks ago I started a tour with Bill Angus and the Mighty Ways that led straight into a Christmas spent honoring kiwi traditions of beach, beers, and BBQ with friends. I balanced that with my personal tradition of making myself available for people who are struggling during the holidays and fielded phone calls from friends and strangers who just needed someone to talk to. Did you know that 3 in 5 Americans feel their mental health is negatively impacted by the holidays? (1)
Then we were back on the road to ring in the new year with Bowie Bowie. We played to a packed house on January's first beautiful summer night and jammed till the wee hours called us to bed. Video: Maggie Cocco sings Dancing In The Street with Bowie Bowie It was an auspicious start until Micky swam too close to the estuary. We managed to catch up with a friend on tour with from the US before the fateful swim caught up to him. We're told it could have been much worse, so January did show mercy I guess. He came right by the next weekend and we were cautiously celebrating the wedding of good friends when January got moody. The thing about summer in New Zealand is that it happens all at once – Christmas, New Years, wedding season, gig season, tourist season, home improvement season, roadworks season, etc. And it doesn't take much for the roads to become impassable here. When record rains began to fall, everything was affected. Plans cancelled can be a relief, or a lot of pivoting and work. I, along with everyone in New Zealand, have experienced a lot of both because of January's moodiness…
A month's worth of rain fell the day Sister arrived at Auckland airport with new husband and baby in tow. I hadn't seen my sister in four years and had never met my brother in law and baby nibling. Nibling, a gender-neutral term used to refer to a child of one's sibling as a replacement for "niece" or "nephew" (2). A flood of sisterly silliness and joy at our reunion was only slightly dampened as we traversed felled trees and fast flooding roads in a race to get home as conditions worsened. We were split up between two cars – sister and I in mine, Micky, Brother-In-Law, and Baby in the rental. The usual two hour drive from Auckland Airport to Whangarei became three for us, four for Micky et al. My GPS dependence proved an asset as it routed us around the worst of the known traffic and slips by taking us off road through a mountainous nature reserve which, in retrospect, might have been extremely dangerous but proved both time effective and visually stunning. Micky has made me promise never to off road in dangerous weather again, even if Google recommends it. For that to happen, Google and January need to get on the same page…
Only a couple hours after getting my sister and family settled at home, Micky and I packed into a jeep with the rest of the San Detroit Band and equipment en route to a wedding. Had this been any other wedding we would have cancelled on account of the conditions, but this was for Hiriwa and Talia. The update on Hiriwa's Encore is that he's home gathering strength for a potentially life saving stem cell surgery in March. It is his best chance, and also extremely risky and fast approaching. Hiriwa and Talz got married in a small private ceremony at a batch in Bland Bay. An hour and a half and several flood plains away, the band calculated that only our drummer Ben's jeep stood a chance of getting us through the flood waters. If it couldn't, we'd happily get stuck trying. About a half hour from the batch, water on the road was nearly up to the door handles. When we arrived at the other side we were almost giggly with relief! We made it to the batch by 6pm where we landed in with half the wedding party and a surge of energy that was still ramping up 3 hours and two or three jams later when it occurred to us that high tide was in a couple hours. If we wanted to make it home that night it was then or never. As abruptly as we'd come we packed up and left the beloved whanau family (3) for one last tempt of fate.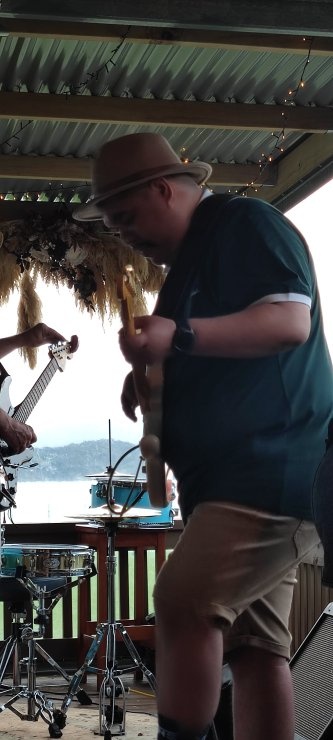 Video: Hiriwa's Wedding Jam Set One
Video: Hiriwa's Wedding Jam Set Two
Going home, that increasingly familiar thrill of camaraderie and peril kept us alert through the flood and darkening skies. The waters had somewhat receded, but we were still dodging dangers such as wayward cows in the misty road. There's nothing quite like the soundtrack of laughter over risky heartfelt endeavors. Eventually I committed the cardinal sin of post-gig drive etiquette, as I always do, and fell asleep with quick Kiwi banter in my ears and heart.
Sister spent four days with us in Northland and it was a great relief to feel that everything that ever was between us still is. Effervescent inside jokes and physical comedy surprised and amused our husbands who'd never seen us together. An absolute tearfest threatened when she left, though neither of us had time for tears. She was off to traverse a foreign country and meet her in laws whilst I headed to Auckland to assume the role of Keys Instructor at To The Front: helping young women, trans, intersex, takatāpui, and gender diverse youth to explore music since 2018.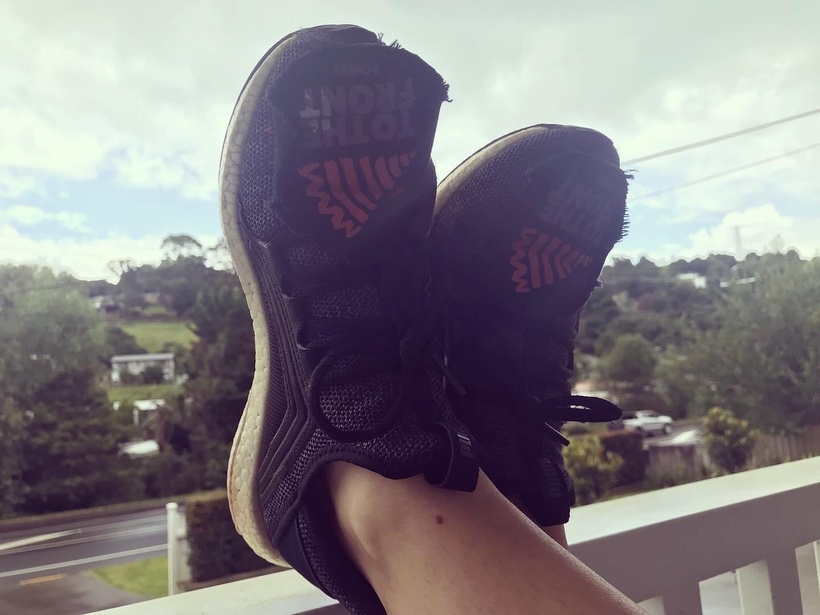 Enter the only week that January behaved. The weather was gorgeous as I taught and volunteered with TTF, played Botticelli, and did the bulk of finalizing a ✨soon to be announced✨ tour. Video: What's Up – Maggie Cocco Acoustic at Botticelli. A very timely house sit with a pool overlooking the bush helped Micky and I feel super rejuvenated even as we poured ourselves into our projects. We returned home – stopping to play Classics at the Cove and crash a couch along the way – to tend to the house, admin duties, and repack for a week of summer festival festivities. Whilst Micky hosted 15 musicians at home for pre-festival events, I ran back to Auckland to meet a new musician friend, Zaynab, and catch Sister & fam's last days in New Zealand. My Auntie muscles had never been flexed before this visit, and it was a relief to discover how natural it came 🤍 Video: Maggie Cocco & Zaynab Wilson Jam on Chris Isaak, Wicked Game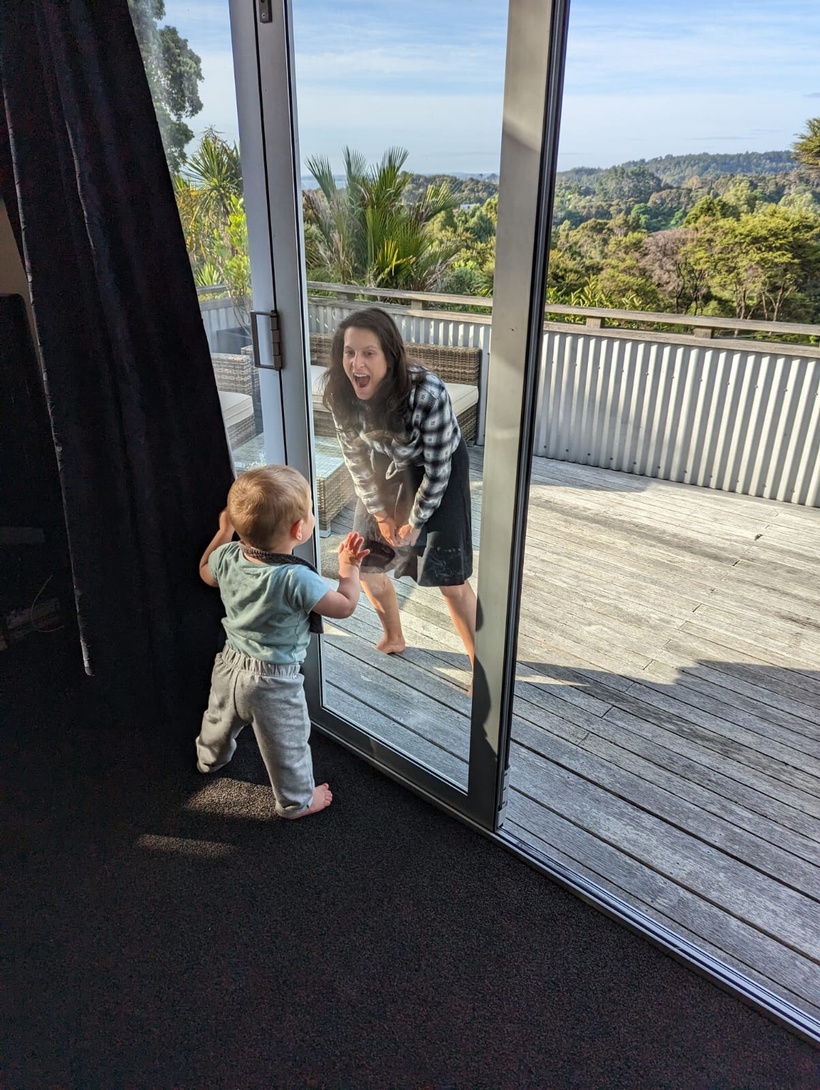 Perhaps January is only an empath…the bout of blue sky that began after Sister arrived ended almost as soon as she left, and the rain resumed its terrible deluge. This time it dumped 100mm more on Auckland than its previous record rain fall. I arrived at the festival grounds just as the decision to cancel the first day's festivities – including our show with Bill Angus and the Mighty Ways – was made. The grounds were already flooded with water up to my ankles with more rain expected. I called Micky to warn him, which was good. The camping gear remained in Whangarei, which was bad. Reports rolled in of roads and cars washed away, homes and business flooded, people stranded. Festival goers, as always, made the most of it. Rain drenched musicians gathered for soggy jam sessions in covered venues and camper vans. People with campers set up their couches for those who'd come with tents. People with homes nearby hosted flood water refugees in their living rooms. I journeyed through two jam sessions and landed at a nearby home where an impromptu host offered musicians a beautiful dinner, couch, and dry clothes. Spirits were high and those with no place else to go gamefully kept those spirits up all weekend and the show went on. For me, missing Micky and fear of the nearby river overflowing it's banks outranked my spirit of adventure and fomo. By noon the second day I saw a window through which I could escape to the north and took it. Three hours of diversions through small towns, winding roads, slips, felled trees, abandoned vehicles, and counting my lucky stars. I fell into Micky's arms and haven't left.
January, it was real. February, let's be a bit more events and bit less eventful, please? K, thanks 😊
Musically yours,
Maggie
References
1. Did you know that 3 in 5 Americans feel their mental health is negatively impacted by the holidays? 
2. Nibling, a gender-neutral term used to refer to a child of one's sibling as a replacement for "niece" or "nephew"
Upcoming Events:
Feb 11th – The Maggie Cocco Band & BOWIE BOWIE at Classics at the Cove 
Feb 14th – GRD Book Club presents Tinder Translator: An A-Z of Modern Misogyny
Feb 18th – The San Detroit Band at Marsden Cove Marina
Feb 19th – Bill Angus and the Mighty Ways at Jam Factory, Tauranga
Feb 24th – The San Detroit Band at Portland Public House 
Feb 26th – Maggie Cocco Acoustic at The Butter Factory
March 4th – Maggie Cocco Music at Artbeat
March 10th – The San Detroit Band at Crown Range Cellar 
March 12th – Maggie Cocco Acoustic at Titirangi RSA 
Recent Events, Blogs, Videos, Editorials, Recordings:
Bill Angus and The Mighty Ways at The Common Room, Hastings
Thanksgiving with Maggie Cocco Music
Wales v New Zealand Women's Rugby World Cup Half Time Show feat Maggie Cocco Music
France v Italy Women's Rugby World Cup Half Time Show feat Maggie Cocco Music
The Meaning behind "Science for Sociopaths" and new music with Beagle Radio
Add lyrics to "What Else" from Maggie Cocco's Science for Sociopaths
All possible events are live streamed, filmed, or otherwise documented. Check Patreon for full content and follow Maggie Cocco Music projects on social media for daily updates.
SPONSORS NEEDED:
New student Tony has a strong baritone and natural musicianship. He wants to learn all the Jazz vocal standards! Tony is differently abled and has limited funds. Tony studied with Maggie Cocco Music for two hours each week. His goal is to sing with a band one day, but also to sing for fun and his health. Subsidizing Tony costs $60/week.
Christian is a Detroit native and was recently adopted into a big loving family of 7. Mom noticed right away that Christian is a naturally gifted singer, and Christian became a Maggie Cocco Music student earlier this year in preparation for her audition with the prestigious Detroit Youth Chorus. She got in – Congratulations Christian! And now takes weekly lessons in music theory and singing with Maggie Cocco Music. Subsidizing Christian's lessons costs $220/month.
Maggie Cocco Music services are Pay What You Can so that persons who mightn't otherwise be able to afford them have access to quality music education and services. Thank you for supporting Maggie Cocco Music in this mission 🤍