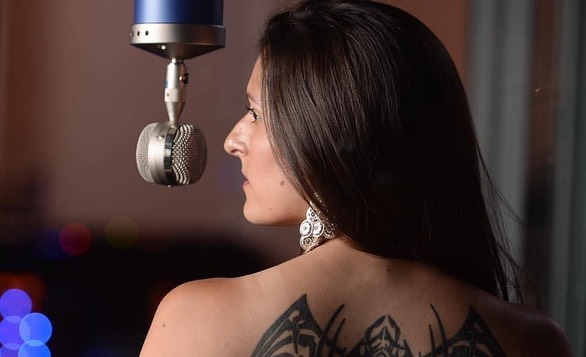 Maggie Cocco music
COMPOSE • PERFORM • EDUCATE
---
Truth – Courage – Resilience – Community – Music
Musician • Composer • Educator • Performer
Hailing from the vibrant music scene of New Zealand, Maggie Cocco is an accomplished American musician, composer, performer, and educator known for her versatility across a wide array of musical genres. With a broad specialization in contemporary popular voice performance, Maggie's creative journey has brought her from performing in stadiums with legacy artists to galleries exploring the avant garde, and is marked by her dedication to exploring the depth, breadth, and profundity of music.
At the recent heart of Maggie's musical expression lies "Science for Sociopaths," an evocative theatrical pop ballad project that delves deep into themes of systemic, interpersonal, and intrapersonal trauma and connection. This groundbreaking project has earned her recognition and acclaim, including the prestigious Best Music award at the Auckland Fringe Festival. Through "Science for Sociopaths," Maggie has meticulously crafted two captivating song cycles, "Like A Moth" and "Elodie."
Maggie's artistic prowess extends beyond the stage as she prepares to release her first analog album, a haunting fusion of voice, piano, and cello, in collaboration with acclaimed composer and cellist Bonnie Schwarz, UK. The album, scheduled for a 2024 release, is poised to captivate audiences across the United States, EU/UK/Ireland, and her beloved New Zealand/Australia.
As a prolific collaborator, Maggie's live performances transcend the conventional, often morphing into mesmerizing multimedia experiments that meaningfully engage local artists and audience participants. Her most recent multimedia collaboration with partner Micky Nogher, Ireland, and textile artist Stefania Naldi, Italy, was selected for exhibition at the prestigious Changing Threads National Contemporary Textile Fibre Art Awards 2024. 
Maggie Cocco is not just a musician, but a trauma-informed composer, educator, and activist. Her commitment to community shines through her Pay What You Can music services and contributions to various arts and social justice movements and organizations. Notably, she serves as the Board Chair of Girls Rock Detroit, weaving her passion for music and social justice activism into the fabric of her career.
Originals – Covers – Lessons – Reviews – Editorials
Maggie Cocco's Science for Sociopaths • The Maggie Cocco Band • The San Detroit Band
With a holistic focus on wellbeing through music, Maggie pursued traditional and alternative knowledge. Her early academic journey has equipped her with a solid foundation, earning a Bachelor's degree in Music Education and Vocal Performance from Oakland University. Under the direct and indirect mentorship of luminaries like Deborah Blair, Jackie Wiggins, Rebecca Solnit, bell hooks, Sinéad O'Connor, and more, Maggie has honed a distinct skill set and profound understanding of music's role in society.
From guiding adult choirs and youth orchestras to teaching general music, songwriting, and civic engagement, Maggie's commitment to education is a testament to her belief in the transformative power of music. Her unwavering dedication is driven by the vision of a world that is both beautiful and just, a vision she strives to bring to life through her remarkable musical journey.
---
NEW RELEASE